Neil Patrick Harris (born June 15, 1973) is an American actor, known primarily for his comedy roles on television and his dramatic and musical stage roles. His best-known roles are the title character on Doogie Howser, M.D. (1989–93), and Barney Stinson on How I Met Your Mother (2005–14), for which he was nominated for four Emmy Awards.
He is also known for his role as the title character in Joss Whedon's musical Dr. Horrible's Sing-Along Blog (2008) and a fictional version of himself in the Harold & Kumar film series (2004–11). He appeared in the films Starship Troopers (1997), Beastly (2011), The Smurfs (2011), The Smurfs 2 (2013), A Million Ways to Die in the West (2014), and Gone Girl (2014).
INSTAGRAM
TWITTER
Nice article in @ParadeMagazine about my book @TheMagicMisfits, out tomorrow! —> Neil Patrick Harris Talks Practical Magic for Kids, Holiday Traditions and More https://t.co/iWpfO6Aqg8
Can't wait to be back with my friends in sunny L.A. on December 5th for #TheMagicMisfits book event with @lemonysnicket himself! Get your tickets at:
You should come to my #NYC book event December 4th for #TheMagicMisfits - all the cool kids are doing it. And who knows? You just may win a meet-and-greet after the show! @SymphonySpace
Neil Patrick Harris The Magic Misfits at Symphony Space
Emmy Award-winning actor, singer, director, author, and magician Neil Patrick Harris comes to Symphony Space to read from his debut young-adult novel,...
www.symphonyspace.org
I just really do need to visit Australia now. They vote for love. Bravo! #progress
Yahoooo! My book, The Magic Misfits, just arrived. Can't believe it's about to be released to the public. In less than a week! I'm a tad nervous, but very proud. I hope kids of all ages will diggit. Order a copy and tell me what you think! @TheMagicMisfits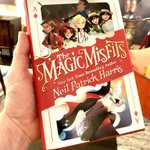 I think I'll live stream this afternoon, babble a bit, answer some questions. Ask away. It's on The IAm Neil Patrick Harris App. Android and iPhone:
In & Of Itself makes a gold brick appear on street corners at every performance. A picture of me and said brick is hiding in this interactive map. Find it, repost it and tag @inandofitself for a chance to win a playbill signed by me. https://t.co/W08tHi1Oz5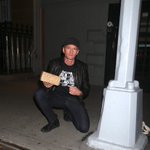 Still buzzing over Colbert's rave for @InandOfItself and @derek_del. I'm so proud of this show and thrilled that more and more people get to enjoy it. If you haven't, please go. You won't regret it. Thanks @StephenAtHome! https://t.co/dtJdVcnhJr
FACEBOOK
What's better than supporting arts education + the chance to hang out with me on the set of The Series of Unfortunate Events?

Supporting American Theatre Wing + this winged t-shirt I designed + 750 entries to hang out with me on set in Vancouver!

Earn your wings at prizeo.com/NPH ... See MoreSee Less
Gimmy Nope, আতিক সাহেব and 23 others like this
Patricia MoonOne of my movie ideas is inspired by a needle trader I knew in Massachusetts. She was born in a Crack House and grew up that way. She didn't really like the endless fucking for drugs, so she said a final prayer and absolutely overdosed. Somehow an ambulance showed up and saved her. God found her a job visiting the Crack Houses she grew up in, all around Middlesex County, Massachusetts, distributing clean needles (trying to find the phone they used and who might have called, to save them too). She spent years working for the asshole of a gay man in charge of the nonprofit. The movie takes place the year after he dies (which makes it totally fiction). The annual fundraising variety show in an auditorium near Boston used by performers advertised in the "Arts Mail" is part of a Catholic High School taught by nuns. The 500 seats look like they are in a giant bathroom with a stage.
2 months ago
Patricia MoonThe dead Nazi type who always made a terrible show, humiliating each volunteer performer so much they looked like dying slaves, had always run the show while she continued to trade needles, never saving anyone or finding anyone interested in changing. While yelling viciously from his wheel chair with full blown A. I. D. S., he claimed he met the real Elton John at a party and that he would be the finale of the next fundraiser, that should get the dedicated supporters to give enough money that they could send some to Timbuktu. The gay asshole was known to be a lying braggart, so everyone figured they would see what happened at the show. All of the jolly making stereotypical gay friends regularly at the office presumed it was most likely some lame crushed drag show singer in a costume who was willingly to help the asshole's big con job. As always, the asshole didn't write anything down for anyone else or share any address or phone number. He domineeringly yelled through his AIDS dementia virus eaten brain mouth that the finale would show up the night of the fundraiser and prove it to everyone. The asshole dies just before auditions even begin. The needle trader, being positive for years by then, immediately becomes sick with pneumonia, just like the gay asshole had when his HIV turned to AIDS. The stereotypically amusing, festive friends of the office relegate the needle trader to his old wheel chair and insist that she can manage the show. She has no experience at it and doesn't know what to do. They call a temp agency, looking for a deal on someone cheap who can help set up a show. They send a drunk in a Santa suit, in July, to run the auditions with the needle trader for the August show.
2 months ago
Es LessinI have no loftier goal on this Earth than to hang out with the actor who formerly portrayed Doctor Douglas Howser.
2 months ago
Patricia MoonAnother movie idea is inspired by Tobias Kahan. www.bu.edu/dental/profile/tobias-kahan/ It is about a Jewish family. Both parents are teachers. They spend summers sailing the Atlantic with their planned children, each two years apart and trained by drills what to do in an emergency/storm. They are all tied to the deck by ropes. Most of the children wash overboard at some point. Toby is the oldest. He does manage to save the other children as planned. He was a wussy, indulged child, frightened of adulthood, responsibility and independence. The sailing trip/storm assured him he could survive college alone and live up to his own expectations.
2 months ago
J'Aime C. PhenéThis reminds me of when NPH ... died in 'EFGB' ... its so hard, to say..goodbye..still gets me everytime.
1 month ago
Patricia MoonIf you visit "The Voice" again, be sure to call Adam Levine, Caming Cow. He likes to pretend to have a Fu Man Chu cooking show. He guarantees the adults, his "name is at least as hard." Kitty poo. Kitty poo. Je t'aime barf all over you. THAT is a HARD name.
2 months ago
Lusha DrackonessI have been inspired to return to #Theatre Thank you #Teenheartthrobneilpatrickharris ...
2 months ago
Patricia MoonAlthough the movie will have many more effects, the story should transfer well to Broadway. The Tony Award winning Jean Val Jean of "Les Miserables" performed his great work at Northern Stage in White River Jct., Vermont while continuing to play Santa Claus for the "Christmas Spectacular" I saw at Radio City Music Hall with my Aunt Barbara Moon, Vice President of Simmons Precision who make the best airplane parts for Virgin Atlantic and all Boeings. She paid for the Amtrak tickets to Union Station/Croton on Hudson in Manhattan and took Dick, Lillian, and Tom Moon to see the show as a Christmas gift.
2 months ago